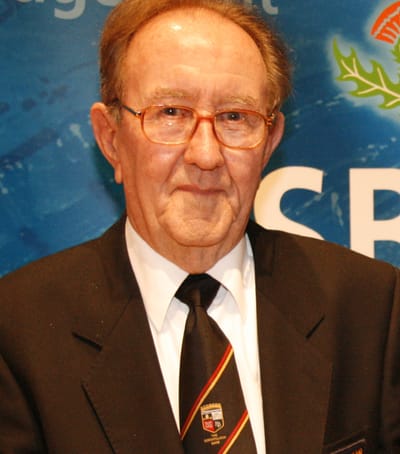 Willie Tennant first joined The Kirkintilloch Band in 1937 playing Tenor Horn; he played his first concert with the band in Woodhead Park, Kirkintilloch in the summer of 1938.
He was forced to give up playing for a time because of Diphtheria, but rejoined the band in 1942 under the Conductor at that time Tommy Learmouth, this time on Cornet and then he moved to Flugel Horn.
Willie took part in his first contest in 1948 in the Usher Hall in Edinburgh, in June 1949 he was called up for National Service when he joined the staff band of the Royal Army Service Corps, and while serving, played concerts in London's Royal Albert Hall on two occasions. He also played with the Aldershot Town Band when serving in the Army. He rejoined Kirkintilloch in June 1951, the same year they won their first 3rd section Championships in the Adam Smith Hall in Kirkcaldy, the band were conducted by Hugh Forbes. Willie then moved on to Euphonium when the band took part in the National Finals in Manchester in 1952.
He has served in all the administration posts over the past 70 years and was first appointed Secretary in 1952 at the age of 23, he then moved to Stirling in 1954. In 1958 he stopped playing for a time to take up a youth training course, he then went on to play with Bo'ness & Carriden band from 1959 till 1960, then rejoined Kirkintilloch in 1961.
He moved to the Paisley area in 1963 and continued his involvement with The Kirkintilloch Band, or Kirkintilloch Silver Band, as it was known then. When he was made redundant from the Linwood Car Factory he took up a post of Brass Instructor with Lanarkshire Schools until his retirement in 1994.
Over the years Willie has conducted Kirkintilloch Senior and Junior Band and had great success, in particular at Solo and Quartet Contests, winning the Junior Quartet Championships in 1971 and the Senior Quartet Championships in the 1980's, he was also responsible for the teaching of a number of successful solo performers.
He moved from Secretary to Treasurer in 1986 and finished playing in the senior band that year and took over the training of the Junior Band. Up until this time he had played in every contest Kirkintilloch Band had entered, apart from one during his national service, and he has a number of Championship Medals from 3rd, 2nd, and Championship Sections.
Since 1954 Willie has travelled thousands of miles just to be involve with The Kirkintilloch Band, a devoted servant to the band in his many fundraising activities over the years, and it's true to say if it was not for Willie Tennant there would be no Kirkie Band.
He became involved with the formation Kirkintilloch Kelvin Brass in 1994, this came about because of the number of players Willie had taught over a long number of years moving on to other bands, there needed to be a base for all his hard work in Kirkintilloch.
Kirkintilloch Kelvin Brass has moved up the ranks from 4th section to Championship Section. It was a great honour when Kelvin Brass won the National 3rd Section Championships in 2000, when they performed in the London's Royal Albert Hall.
On this occasion it was a proud day for Willie in Particular as at the age of 70 he was playing Eb bass and his son Raymond was conducting, Willie gaining his first National Championship Medal at 70, not bad!
Willie Tennant has taught hundreds of young people over the years, some playing with other bands, some now teaching or performing music, and others have stayed with the Kirkintilloch organisation.
In 2001 Willie was presented with the Diploma of the Worshipful Company of Musicians, recognising 64 years of dedication and teaching of young people.
Willie was presented with the Lifetime Achievement Award from the Scottish Brass Band Association in 2008, he also received the 50 year life members medal in 1994.
Willie was Honorary President of The Kirkintilloch Band organisation which incorporates Kirkintilloch Kelvin Brass, Kirkintilloch Youth Band.
His two sons Ronald and Raymond now earn their living from brass music and responsible for the very successful Band Supplies company.
The success of any band depends on loyal faithful servants with a commitment like Willie Tennant has had over the past 92 years, he was been ably supported by his late wife Margaret, sons Ronnie, Raymond, Scott and daughter Arlene.
Peter Fraser
May 2021