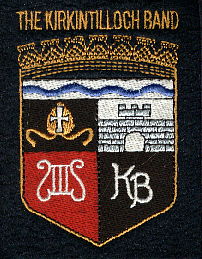 The Kirkintilloch Band - Musical Director - Hedley Benson
Teaching and performance of Brass Music since 1890
The Kirkintilloch Band was formed in 1890 with funds provided by public subscription and is still a self supporting organisation.
Their first contesting appearances were in the 2nd Section Championship in 1898 and 1899. However it was not until around 1948 that their contesting prowess came to light. The band progressed through the sections in the 1950s and 60s. They made their debut in the 1968 National Championships in the Royal Albert Hall.
Over the years many Conductors and Musical Directors have influenced the musical direction and teaching at Kirkintilloch, Hugh Forbes, Tommy Learmouth, David James, Peter Wilson, Charles Keenan, Matt Siddell, Alex Fleming, Selmer Simonsen, Jim Smith, Steve Bastable, Paul Drury, Alan Fernie, Richard Evans, Nigel Boddice, Russell Gray, Garry Cutt, Frank Renton, Luc Vertommen, Philip McCann, Alan Ramsay, Craig Anderson, Paul Holland, Chris King, Dave Roberts, Ray Munday, Craig Roberts, Gareth Bowman, Raymond Tennant, Willie Tennant. Eoin Tonner and many others.
The appointment of Prof. Walter B Hargreaves as Musical Director marked a turning point in the band's history when it won the Scottish Championships in 1984 and 1985 under his guidance. 'Kirkie', as they are known in the banding fraternity, won the Scottish Championship in 1990 and 2002 conducted by Frank Renton. Success at the Scottish Championships meant further appearances in the National Finals in the Royal Albert Hall and to the band competing in the European Championships in Copenhagen (1985), Wales (1986) and Rotterdam (1991) Luxembourg (1995) Bergen (2003) and Stavanger (2008)
In 2001 they won the Grand Shield Contest in Blackpool conducted by Alan Ramsay, which qualified them to take part in the British Open Championships for the first time in their history.
In September 2004 Steve Bastable conducted the band at the British Open Championship when they were place 4th; this was undoubtedly the bands best result since its formation in 1890. In 2007 under the leadership of Nigel Boddice they once again became Scottish Champions. In the 2008 Championships Selmer Simonsen was engaged to conduct the band and they were place 2nd and again runner-up in 2009. It the 2008 British Open the band where placed 5th conducted by Selmer Simonsen. In 2013 they again had a very successful year with 2nd place ant the Scottish Championships and the Grand Shield in Blackpool with Conductor Phillip McCann. Then followed representing Scotland at the British Open and The National Championships in London's Royal Albert Hall.
In 2019 the band gained promotion back to the Championship Section after a year in the 1st Section which they won in 2019.
The Kirkintilloch Band has never had the backing of a sponsor, members pay for all trips and visits to Contests in various parts of the UK and Europe.